by Anonymous
(USA )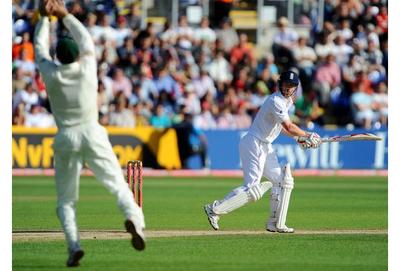 Paul Collingwood Caught At Gully
Hi, I am a club cricketer in the United States.

I have recently got out 3 times in a similar fashion after getting 20-30 run starts, caught at gully playing the off-drive to a right arm fast bowler.

What would your suggestion be to iron out this flaw?
Any suggestions appreciated.
Thanks in advance.
Hi, firstly look at this as a challenge not a problem, it effects your focus and how you work on it. We don't want you to get hypnotised when you go out to bat by 'not wanting to get caught at gully' ! What you focus on is what you get.
So we break it down into 'what you do want to make happen', rather than focusing on 'what you don't want'.
I am not going to diagnose why you are getting caught at gully, it can be a mixture of things.
So our 'solutions focus' works on what we are going to make happen.
1. Hit the ball on the ground
2. Hit the ball up through the off side, not square (for now).
3. Playing closer to our body and under our eye line.
4. Manage our Game Plan
To do this, we need to implement in training what we are going to do in game time.
In nets, make a habit of visualising the field set by the bowler, typically the field that is present when you are getting out.
You now need to train your game plan so that you are going to hit the ball up the wicket in front of cover. You are giving your brain a blueprint of where you are going to score. Train this at all times so you have this embedded in your batting awareness.
Practice playing the ball close to yourself, drive the balls within your eyeline, not outside.
1. Straight Drive Practice Drill with a partner: Put a cone down 2 paces in front of you, one pace to the off side. Get him to throw over arm or under arm on the bounce and practice driving the ball into the ground in front of the cone and back past him straight. The cone is the cover fielder, the goal is to control and condition the area your hitting the ball into.
This will train you to allow the ball to come right up to you, it brings your timing point under your eyes and control your scoring area.
2. Square Drive Practice Drill: The same drill as above, now put out another cone on the off side, so you have a gap between point and cover to play the square drive.
Get your partner to throw a little wider, so you can become aware of playing within your range and with control of the shot. Hit the square drive now, hitting down and through the gap.
Game Plan: If you are getting out at the same time in your innings, plan to move through this stage of your innings by staying within your game plan. Work to 50 runs from 30, breaking it down into 5 run blocks. Your game plan is to stay tight all the way through to 50 if the game context and time allow. After 50 you can look to become more expansive if you want. If you have time in the innings, stay tight and work on toward your hundred, its just a matter of time and concentration.
I always say to batters, you are only in at 30 runs, so the next goal is 50, build this into your innings management.
As you progress, be aware of your goals, how you are moving the team innings forward and how you can score as low risk as possible whilst keeping the opposition under pressure.
I know this will help, its a drill I use with the Pro's when they have the same issues.
Good Batting ! Regards Coach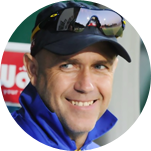 About Richard Pybus
I'm Richard Pybus, I've coached Pakistan, Bangladesh, Middlesex, Titans and the Cape Cobras in South Africa and the goal of this site is to help you to play winning cricket.