by Shabin
(Thiruvananthapuram, Kerala, India)
Sir,
I am a teenage cricketer who is a fast bowler, I can bowl at a speed of 135-142 km/hr.

The problem is that my opposition team mates say that my action is a throw, even my team mates agree .. Some times I feel uncomfortable with my action. I am really disappointed. I don't know what to do.. Could you please help me to change my throw action without making my deliveries slower?
Hi Shabin, I can imagine how frustrating this is, particularly as you have the ability to bowl quick.
The first suggestion is to get your coach to assist you and if they can't, if they can help find you a fast bowling coach to have a look at your action, someone from the local cricket board.
If you are in a rural area and don't have anyone to assist you, the simplest way is to use a mirror at home or a reflection in a window to watch yourself bowl. By using a mirror or reflection you can watch your body action and self correct whilst you bowl.
We do this with shadow bowling, using the reflection and an imaginary batter … and beginning by standing still to control the motion, then walk, jog, run as we get better.
You'll need some room to do this !
A Gym with a mirror will work well or an aerobics or dancers studio.
The best time to do this is in the off season so that your brain and body have time to learn the new action.
1. Begin by standing still and shadow bowl as if bowling at the batter in the reflection.
Check your arm action, is it straight? If not, then self correct and straighten it as it comes over.
2. As you become proficient at this, take a couple of steps back and walk through your action, monitoring your bowling action, making sure that your bowling arm stays straight throughout the release.
3. As you improve, probably after a couple of weeks, you can progress by jogging toward the mirror or window reflection and shadow bowl through your action.
4. Keep progressing this as your action becomes stable and you can repeat your action without it regressing into a throw.
Best Wishes Coach
Comments for Cricket Fast Bowling Tips: Problem With Throwing When I Bowl
Dec 20, 2014
chucking


thanks a lot coach.it helped me play for my tournament and i bowled very well throughout the tournament.but it just took me 6hrs to stop chucking.thanks a lot

Well done, keep working on your action so it doesn't go back to the old bad habit you had. Its important to maintain the work you have done.Regards Coach
---
Feb 17, 2014
THANKS


thanks for helping me to correct my chucking problem
---
Join in and write your own page! It's easy to do. How? Simply click here to return to Ask Coach ? .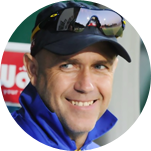 About Richard Pybus
I'm Richard Pybus, I've coached Pakistan, Bangladesh, Middlesex, Titans and the Cape Cobras in South Africa and the goal of this site is to help you to play winning cricket.