by A.S. RAJPUT
(Pathankot, Punjab, India)
Hi Coach,

my name is A.S. RAJPUT. I am a fast bowler, my legs hurt whenever I bowl 15-20 overs during a practice session. What do you advise ?

Thank you.
Hi A.S,
its no surprise your legs are sore if you are bowling that much at practice. You are putting yourself at risk of getting stress fractures in your legs and back.
Your bowling workload depends on your age and conditioning.
As a general guide …
Work on 4-6 overs at training, after warming up.
Take a days break between nets to allow your body to recover and get stronger.
Don't bowl more than 6 overs in a spell.
If you are an adult and well conditioned then 20 overs can be a days bowling workload. Full recovery afterwards of at least a day.
If your a teenager then no more than 10 -15 overs in a day maximum. Perhaps 3 x 4 over spells.
Rest and eat well to give your body the right nutrition to rebuild itself.
Be sensible and listen to your body, if its tired or hurts then rest.
Best Wishes Coach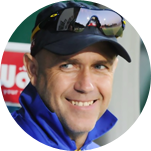 About Richard Pybus
I'm Richard Pybus, I've coached Pakistan, Bangladesh, Middlesex, Titans and the Cape Cobras in South Africa and the goal of this site is to help you to play winning cricket.