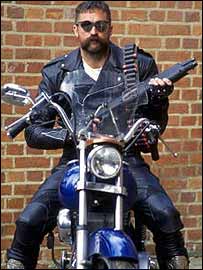 Cricket humour and in particular sledging, has evolved into an art form. Much of the best sledges and banter has come from cricket's oldest foes, Australia and England.
The history of cricket humour goes back into the dark ages of the game, one of cricket's original wits, W.G. Grace, on being bowled stated: "Twas the wind which took thy bail off, good sir." To which the umpire replied, "Indeed, doctor, and let us hope thy wind helps the good doctor on thy journey back to the pavilion."
Others have contributed to this specialist art form, Javed Miandad and Eddo Brandes have made notable contributions on behalf of their nations.
Cricket intellectuals like Merv Hughes, pictured above, have added the weight of their wit and genius to this developing genre.
---
Merv Hughes to Robin Smith
Smith plays and misses to Hughes in the Lord's Test 1989, England and Australia.
Hughes: "You can't f***ing bat, mate."
Smith then smashes the next ball for four and replies: "Hey Merv, we make a fine pair.
"I can't f***ing bat and you can't f***ing bowl."
---
Some of cricket's greatest sledgers have come from a core group of cricket comedians, Hughes, Javed Miandad, Ian Botham and interestingly, Shane Warne's waistline has received some quality attention.
Merv Hughes & Javed Miandad
1991 Adelaide Test: Javed called Merv a fat bus conductor. A few balls later Merv dismissed Javed. "Tickets please," Merv called out as he ran past Javed.
Glenn McGrath bowling to Zimbabwean Eddo Brandes
"Hey Eddo, why are you so f**king fat?" Eddo Brandes "Because every time I f**k your mother, she throws me a biscuit."
Ian Healy asks Arjuna: "Got your legs shaking?" Arjuna replied: "Yes, I'm tired after sleeping with your wife"
Daryll Cullinan playing New Zealand after having his brain fried by Shane Warne.
Cullinan played the first ball from Chris Harris very carefully back down the pitch, and keeper Parore yells "Well bowled Warnie!"
How anyone can spin a ball the width of Gatting boggles the mind.
Martin Johnson on Shane Warne's ball of the century
Shane Warne is thicker than a complete set of Wisden year books.
Matt Price
The only time an Australian ever walks is when his car runs out of petrol.
Barry Richards, 1980
Jason Gillespie is a 30-year-old in a 36-year-old body.
Bob Willis
I smiled at Ricky Ponting. He didn't smile back. He was in a terrible temper for some reason. Quite why he was blaming me when his partner, Damien Martyn, had called him for a suicidal single to cover, I don't know. You know what's more? All the palaver caused me to burn my toast.
Duncan Fletcher on the fallout from the infamous Gary Pratt run out
Mark Waugh : F**k me, look who it is. Mate, what are you doing out here, there's no way you're good enough to play for England.
James Ormond : Maybe not, but at least I'm the best player in my family.
He's fat, he's round, he bounces on the ground, Shane Warne, Shane Warne.
Barmy Army to Warne
Ricky Ponting continues to believe that the lbw law simply doesn't exist. And Andrew Symonds has to work out how to get his hip flask onto the field without the Sky cameras noticing.
Dan Nicoll
The kindest thing you can say about their performance is that it was shoddy but you can think of many stronger words to use.
Richie Benaud
Get your sh*t stars off our flag.
Barmy Army to Australian Cricket fans.
Don't bother shutting it, son, you won't be there long enough. Fred Truman to incoming Aussie batsman as he opened the gate on his way out to the middle at Lord's
Chappell was a coward. He needed a crowd around him before he would say anything. He was sour like milk that had been sitting in the sun for a week.
Ian Botham
You are a damned lot of sneaks.
WG Grace to Midwinter, The Oval, 1877
Tap that one down you little b*stard.
Tony Lock bowls a bouncer at Richie Benaud following a prolonged spell of gardening
Take a good look at this arse of mine, you'll see plenty of it this summer.
David Steele to Rodney Marsh
They are capital winners out here, but I'm afraid the same adjective cannot be applied to them as losers.
Lord Harris, on tour in Australia in 1879
You're only good at swimming.
Barmy Army Ashes 2005
The Australian temper is at bottom grim. It is as though the sun has dried up his nature.
Sir Neville Cardus
I know plenty of professionals whom I would delight to have as guests in my home, but I'm afraid I cannot say the same thing about most Australians I have met.
AW Carr
Are you Bangladesh in disguise?
Barmy Army singing to the Australian Cricket Team and fans in the 2005 Ashes
The traditional dress of the Australian cricketer is the baggy green cap on the head and the chip on the shoulder. Both are ritualistically assumed.
Simon Barnes writing for The Times
Aussies are big and empty, just like their country.
Ian Botham
If we don't beat you we'll knock your bloody heads off.
Bill Voce
Daft cricket. They slog your good balls and get out to your bad ones.
Matthew Hoggard
All you Aussies are a bunch of hicks who don't know the first thing about cricket.
Ian Botham
Playing against a team with Ian Chappell as a captain turns a cricket match into gang warfare.
Mike Brearley
As harrowing occupations go, there can't be much to choose between the Australian cricket captaincy and social work on Skid Row.
Doug Ibbotson
When Justin Langer finds his off stump akimbo he leaves the crease only after asking the met office whether any earthquakes have been recorded in the region. In any case, he never edges the ball. It's just that his bat handle keeps breaking.
Peter Roebuck
The aim of English cricket is, in fact, mainly to beat Australia.
Jim Laker
An ordinary bloke trying to make good without ever losing the air of a fellow with a hangover.
Peter Roebuck on Merv Hughes
A cricket tour in Australia would be the most delightful period in one's life, if one was deaf.
Harold Larwood
Well bowled Harold!
Douglas Jardine after Larwood fells Woodfull with a ball in the chest
All Australians are an uneducated and unruly mob.
Douglas Jardine. Comment made to Australian wicket keeper Stork Hendry during the infamous 1932-1933 Bodyline series.
Are you aware, sir, that the last time I saw anything like that on a top lip, the whole herd had to be destroyed?
Eric Morecambe to Dennis Lillee
The mincing run-up resembles someone in high heels and a panty girdle chasing after a bus.
Martin Johnson on Merv Hughes
The Aussies try to present a tough guy image, but this present generation are a bunch of cissies.
Tony Greig
That Glenn McGrath … what a bastard.
Mick Jagger
I have on occasion taken a quite reasonable dislike to the Australians.
Ted Dexter
Border is a walnut: hard to crack and without much to please the eye.
Peter Roebuck
The only one who really got up my nose was Steve Waugh who spent the entire series giving out verbals. A bit of a joke really when he was the one bloke wetting himself against the quick bowlers.
Michael Atherton
If they stop throwing, cricket in Australia will die.
Tommy Andrews
Merv is a funny guy, though he would sledge his own mother if he thought it would help the cause.
Gladstone Small
If you're playing against the Australians you dont walk.
Ian Botham
Are you going to get out or do I have to come round the wicket and kill you?
Malcolm Marshall to David Boon
You convicts are all the same
Malcolm Marshall to Steve Waugh after he refused to walk
Go and deflate yourself, you balloon.
Daryll Cullinan to Shane Warne
Shane Warne : I've waited two years for another chance to humiliate you.
Daryll Cullinan : Looks like you spent it eating.
Bowl the bastard a grand Piano and see if he can play that instead!
Yabba: Australian Okker Legend
Damien Martyn has batted handily in his unobtrusive way but fielded like a pensioner. Langer has his limitations. Without Clarke, this side has more carthorses than a Victorian mail coach. Suddenly this team is looking its age. Sometimes, when the end comes, it is quick.
Peter Roebuck
What do you think this is, a f***ing tea party? No you can't have a f***ing glass of water. You can f***ing wait like all the rest of us.
Allan Border to Robin Smith
Mate, if you turn the bat over, you'll see the instructions on the back!
Merv Hughes to Robin Smith
Tufnell! Can I borrow your brain? I'm building an idiot. Voice from the crowd, Newcastle Test
Don't swat those flies, Jardine, they're the only friends here you've got!
Yabba
Hell, Gatt, move out of the way, I can't see the stumps.
Dennis Lillee
Don't give the bastard a drink. Let him die of thirst. Voice from the crowd while Jardine was batting during the Bodyline series
The sound of the ball hitting the batsman's skull was music to my ears.
Jeff Thomson
The other advantage England have got when Phil Tufnell is bowling is that he isn't fielding.
Ian Chappell
You've got to bat on this in a minute, Tufnell. Hospital food suit you?
Craig McDermott to Phil Tufnell
Shane Warne's idea of a balanced diet is a cheeseburger in each hand.
Ian Healy, 1996
David Gower : Do you want Gatt a foot wider? Chris Cowdrey : No. He'd burst.
If it had been a cheese roll, it would never have got past him. Graham Gooch on Mike Gatting being bowled by Warne
A fart competing with thunder.
Graham Gooch on England's chances in Australia in 1990-91
England have only three major problems. They can't bat, they can't bowl and they can't field.
Martin Johnson
I'm completely different from Pietersen. He would turn up to the opening of an envelope.
Andrew Flintoff
It was a mixture of bad bowling, good shots and arse.
Jason Gillespie, describing his own Ashes performance
Q: What's your favourite animal? Steve Waugh: Merv Hughes.
In my day 58 beers between London and Sydney would have virtually classified you as a teetotaller.
Ian Chappell on hearing David Boon had downed 58 beers on the flight to England in 1989. Boon claimed he was afraid of flying.
What Other Visitors Have Said
Click below to see contributions from other visitors to this page…
Sunil Gavaskar's Shoe Lace
The Maharashtra v/s Bombay Ranji Trophy match was scheduled in late the seventies at Nasik, a small town near Mumbai. Sunil Gavaskar was leading Bombay …
Sachin Tendulkar v/s Maninder Singh And The Cost Of The Garland
The story is very old, some 25 years ago some where in 1986-87 and the Ranji Trophy season was on. The young boy of 14 – 15 years, a sensation in Mumbai …
---
---