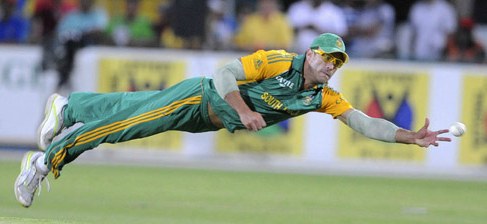 Cricket Fielding Tips:
Here are key fielding tips from some of the world's best fielders, you can learn not only from practicing these tips but also from watching the best players and having fun copying them.
I have learnt from having wonderful fielders like Faf du Plessis and A.B de Villiers in the squad I coached at the Titans and also from watching and studying the fielding greats like Jonty Rhodes and Ricky Ponting.
---
Top Ten Fielding Tips
---
Faf du Plessis's Top Ten Cricket Fielding Tips
---
1. Positive Intent is the energy behind your fielding – want the ball, all the time. Desire the opportunity to make the match winning catch, the run out to change the game, to save 8 runs per innings.
Set this as a goal each ball, it gets you into good positions to field the ball.
2. Desire:
Is the foundation of positive performance.
Set goals for your performance in the field- runs saved, catches taken per opportunity, direct hits …
3. When fielding in the inner ring close down the angles that the ball can travel – you want to be close without compromising your reaction time.
4. Model Excellence: Copy the best Fielders in the world. A..B de Villiers, Ponting, Gibbs and Collingwood in the field. Study their body positions at the point when the ball is being hit. Whether you are at point, midwicket, slip or short leg.
5. Watch The Captain.
Keep your eye on the Captain at all times, they may want to move you to set a trap and they need your eye contact between balls to be able to make these adjustments.
6. Captain your own space on the field.
Know what your roles and responsibilities are in the field.
Know how you will be measured on your fielding and what the criteria is.
7. Get into the 'Power Position'.
When the ball is about to be hit, you want to get into the soccer goalkeeper position. Lower your body weight, head forward and hands ready and presented in front to the body ready for the ball. Balanced on the balls of your feet. A.B de Villiers is a great example of this, record him on TV and practice this in games and in training.
8. Put first things first – master the basics.
Practice single and double hand catching.
Ground balls, bouncing balls.
Master your throwing technique for accuracy and control.
9. Have a 'relax – recharge' routine to manage your energy and focus on the field.
Manage your energy – like in batting and bowling, you need to be able to switch your focus and energy on and off for when the ball is in play. To be alert for a full days play you have a finite amount of energy, manage it carefully, you need to be as alert at the end of the days play as you do in the opening 10 overs.
10. Watch the batter carefully, anticipation is critical in elite fielding.
When you are in a position in the inner ring or outfield, focus on the batter's body postion, after a while you will begin to see the positions they get into to hit specific shots.
---
I hope you have enjoyed these cricket fielding tips, come back and visit regularly as I add more cricket tips and fielding info.
Pass these on to your friends, help them to improve their game with fielding tips to keep them on track.
Share them and and get them to come visit Cricketlab to improve their cricket skills too.
---
Back From Fielding Tips To Cricket Tips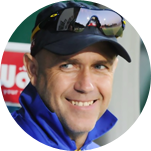 About Richard Pybus
I'm Richard Pybus, I've coached Pakistan, Bangladesh, Middlesex, Titans and the Cape Cobras in South Africa and the goal of this site is to help you to play winning cricket.