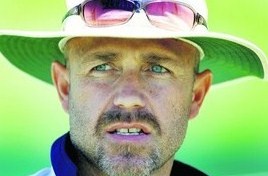 Welcome to Cricketlab.

I'm Richard Pybus, I've coached Pakistan, Bangladesh, Middlesex and the Titans and Cape Cobras in South Africa and the goal of this site is to help you to play winning cricket.
It is achievable for all cricketers, all it takes is improved thinking and focus, good cricket skills, fitness and plenty of practice.
I have created Cricketlab as a cricket coaching performance center to help you achieve your cricket goals.
To help cricketers learn How To Play Cricket better and …. faster !
It is to help cricketers, cricket coaches, parents and strength and conditioning coaches about how to improve cricket performance.
Focusing on cricket coaching, cricket strategy, cricket tips and techniques, mental toughness and the cricket fitness aspects of the game.
To all the young and old cricketers out there, dream big goals, in life and cricket.
I have learnt on this cricket journey that it takes the same energy to set a big goal as it does to set a small goal … here's Marianne Williamson's quote that sums it up,
"Our deepest fear is not that we are inadequate. Our deepest fear is that we are powerful beyond measure. It is our light, not our darkness that most frightens us. We ask ourselves, Who am I to be brilliant, gorgeous, talented, fabulous? Actually, who are you not to be? "
---
In Cricketlab
Elite Cricketers share their …
* Cricket Tips * Cricket Batting Tips  * Cricket Bowling Tips * Wicket Keeping Tips * Cricket Fielding Tips
I share my thoughts on …
* Cricket Coaching and how we can accelerate the learning process for players.
* You're Really Coaching The Cricketer's Brain
---
Cricket Mental Toughness: Cricket can be very tough mentally, it can create performance anxiety which destroys a players confidence, focus and game plan. You can find solutions in …
* Cricket Mental Toughness Training
* The Laws of Mental Toughness Training For Cricket
* Relaxation Is The Foundation Of Cricket Performance
* Goal Setting Is The Key To Optimal Cricket Performance
* A Quiet Mind Is When The Door To The Zone Opens
* Positive Visualization and Imagery
* Performance Breathing Skills For Cricket
---
Cricket Fitness: Strength and Conditioning
Cricketlab is delighted to bring you the work of one of cricket's best strength and conditioning coaches, Greg King.
Formerly of the Indian Cricket Team and  Chennai Super Kings,  he currently works with the South Africa Cricket team.
---
The Cricket Store is powered by Amazon, with departments in the US and the UK.
Check the latest deals on cricket bats, cricket helmets, balls, shoes and shirts.
---
Cricket Players: Read my performance analysis of the best cricketers, what the key mental, physical and technical aspects of their games are.
Sachin Tendulkar , Dale Steyn, Brett Lee, A.B.de Villiers, Rahul Dravid, Ricky Ponting, Andrew Flintoff and M.S.Dhoni.
---
The CricketLab Cricket Humour page: Great cricket sledges and funny cricket videos.
---
Search For Cricket Coaching, Tips, Batting, Bowling, Wicket Keeping, Live Scores Cricket
Cricket Tips From Test and First Class Cricketers On Bowling, Batting, Fielding and Wicketkeeping
Cricket Batting Tips From International Cricketers. Learn the best batting tips from my twenty years of coaching at first class and international level.
Cricket Bowling Tips: Learn the Tips and Secrets of the World's Best Bowlers
Cricket Fielding Tips: Learn From The Best Fielders In The World. What is their focus, their mindset and the key things they do consistenlty to be the best.
Wicket Keeping Tips From International And First Class Wicket Keepers
Cricket Coaching: Richard Pybus's Coaching Foundation Skills, Insights and Method
Cricket Fitness:What do Sachin Tendulkar, Ricky Ponting and Dale Steyn all have in common, they have a strength and conditioning plan and program. Check out the cricket fitness programmes and plans.
Cricket Mental Training: Develop the Mental Training Skills Of Crickets' Master Players. What Separates Them from The Rest of The Pack
Learn How To Unlock The Cricket Strategy Code: To play winning cricket you need superior cricket strategy. When two teams of equal skill and fitness confront each other, it is the side with superior
How To Play Cricket: Learning to Play and Love Cricket
Cricket Humour: Sledging in Cricket has evolved into an art form, much of the very best sledging has been between the old foes, Australia and England
Cricket Equipment Store : Welcome to our cricket store, come and check out the latest bats, helmets, balls, cricket kit, dvds, books
Richard Pybus: Coaching Testimonials
Cricket Bats: Information on the Cricket Masters Wands to the Weapons of War used by today cricket hero's. Prices, Sales , Reviews
Cricket History – A Short History Of Cricket From CricketLab
The Ashes : Cricket's Greatest Rivalry
Sports Hypnosis and Tiger's Secret
Cricket Players –The Great Cricketers Who Define Their Generation
ICC Cricket Rankings: Get all the Latest ICC Rankings here. Test . ODI. 20 20.
Cricket Rules: Cricket Rules Introduces A Simple Introduction To The Laws of Cricket For Beginners
The Latest Cricket News From Around The World
Cricket Helmet: Prevention of Head Injuries Whilst Playing Cricket
T20 Cricket : Game Strategy, Coaching and T20 Tactics
Cricket Technology: What are the latest developments in cricket technology for the player and the coach? How can they help you and what impact can they have for the player and coach?
Contact Me
Site Policies
About Me
Dale Steyn's Top Ten Cricket Fast Bowling Tips