by Avi
(Kanpur)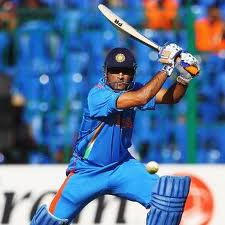 M.S.Dhoni – Super Blaster
M.S. Dhoni – Super Blaster
My title says it all ! The destructive power of M.S. Dhoni.
My cricket story goes like this … before 2005 I had never paid attention to cricket, by mistake the channel on the tv got changed and there was a match showing between Sri Lanka and India.
Sri Lanka made 299 and I challenged my father that India were going to lose today. But I wasn't aware that there was a new man by the name of Mahendra Singh Dhoni.
He was looking calm and focused, which have become the hallmarks of his cricket and captaincy.
He showed me how to control his emotions in a difficult situation.
Muralitharan was bowling to Dhoni, I was wondering if he could hit boundaries against him, it's not an easy task with Muralitharan.
Then he attacked Muralitharan hitting him for six, after that he never looked back.
The result was India won that match and he scored 183 and not out too. It was an explosive show by the 'Dhoni' and grabbed the man of the match award.
Now that is one of my memorable cricket innings !
Coaches Note …
October 31,2005: Jaipur
Dhoni scores 183 not out off 145 balls with 15 fours and 10 sixes, India chase down Sri Lanka's 298. It's the highest ODI score by a wicketkeeper and India go to a 3-0 lead in the series. Dhoni is Man of the Series: India beat Sri Lanka 6-1.
Join in and write your own page! It's easy to do. How? Simply click here to return to M.S . Dhoni .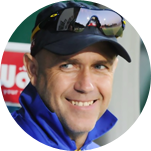 About Richard Pybus
I'm Richard Pybus, I've coached Pakistan, Bangladesh, Middlesex, Titans and the Cape Cobras in South Africa and the goal of this site is to help you to play winning cricket.