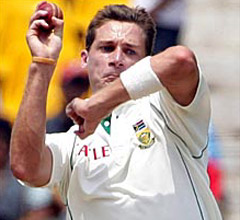 ---
Dale Steyn's Top Ten Fast Bowling Tips.
1. Become a Learner: The answers to becoming a better fast bowler come from within, pay attention to what you are getting from your training and match performances. Set goals for yourself. Know what you want from training and focus on achieving it, this carries over into matches and will improve performance accordingly.
2. Cricket Equipment. Make sure you have the right shoes, rather spend more on getting the right footwear and have happy feet than cheap shoes and sore feet.
3. Cricket Practice: Make make sure the quality of your practice is specific and focused. Rather do it properly than not at all.
4. Building Good Habits: Surround yourself with people who will have a positive influence on you. Good habits are learnt, so be around those people who will help you grow and focus on the right things, on and off the pitch.
5. Positive Intent: Focus on bowling quick, the line and length will come later. You can learn to bowl line and length, but you need to focus on bowling quick to train your mind and body to act and think quickly. Make a mental note of when you are bowling well and then focus on remembering the feel of what you are doing and how you can repeat it.
6. Cricket Fitness: It's important to focus on the strength and conditioning aspects of your game, train your body so that it can handle the workloads of fast bowling.
7. Good Days – Bad Days : Don't be scared of going for runs on a bad day, you'll have good days when it all comes together. Those days will make up for the bad days, seeing the stumps flying out the ground and fear in the batters eyes.
8. Simplicity: Keep it simple and don't over complicate it. Make sure you understand your bowling action … have your check points that you can run through.
Check to make sure that your grip, run up, action and follow through are all working well.
9.Cricket Mentor. Find someone who can help you, someone that you can trust and who can remind you to focus on the things that work for you.
10. Have fun. Enjoy your team mates, playing the game you love.
+1. Positive Focus: When you're going through a bad spell of form, put your energy into the team rather than obsessing on what isn't working for you. It helps you to get out of your own head. When you put energy into your team mates your own game invariably comes right.

Back To Cricket Bowling Tips

Go To Dale Steyn: Cricket Bowling StrategyTips

Go To Dale Steyn: Boy From The Bush To King Of The Fast Bowlers

Back To cricketlab.co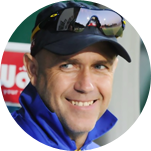 About Richard Pybus
I'm Richard Pybus, I've coached Pakistan, Bangladesh, Middlesex, Titans and the Cape Cobras in South Africa and the goal of this site is to help you to play winning cricket.