I have been privileged to have been part of Dale Steyn's journey. The thing that stands out for me, regardless of my familiarity with him, is the sheer beauty of his bowling – the effortless rhythm and silkiness of his run up, the purity of his action which is at the same time so powerful… and for so many of the world's great batters, hypnotically intimidating.
Dale's journey is one of those wonderful romantic stories that cricket throws up, the kid from the back of nowhere who follows his dream and ends up becoming a world great.
In Australia they have the 'boy from Bowral', the country boy who left the small town and went to the big city, Sydney, and followed his heart… his name was Don Bradman. Dale's story is quite similar: he left the small country town of Phalaborwa to go to Pretoria for trials to enter the Northern's Cricket Academy.
One of the beautiful things about cricket and sport in general is that it is so meritocratic: if you are good enough, you will play.
South Africa has wonderful cricket nurseries, schools with first class facilities and a history of producing players for SA.
Steyn didn't walk that path, not for him the hallowed halls and manicured fields of South Africa's finest cricket schools… Dale is just a kid from the bush who went to the local high school, and had a prodigious gift.
A gift to bowl very quickly, with incredible control.
Dale Steyn never looked back. Well, perhaps he did, but his cricket didn't.
---
---
I had the privilege of working with Dale over my four years coaching the Titans and even I was surprised at the impact he has made.
Not that I doubted Dale's ability, but you never know how someone is going to adapt to the game at the highest level.
It wasn't all plain sailing. He got absolutely butchered in an ODI in Australia – 'traumatised' may not be too strong a word. He came back from that experience and I remember his saying to me, 'That is never going to happen again'. Firm and defiant.
Then Steyn set about the work.
Perhaps these moments define us, something where circumstance asks us to make a decision and the decision moves us on, up a level, into new territory. Beyond the romantic nature of the story, there is a man with a prodigious gift and a capacity to learn and assimilate information very quickly.
Dale Steyn not only has the requisite physical gifts, a strong, lean body, levers long enough to generate considerable force, but he is also loaded with fast bowler's 'Kryptonite': the fast-twitch muscle and explosive fibres that allow him to move his body extremely quickly and to accelerate an object, the cricket ball, at great velocity.
---

Dale Steyn : Mental Game
Steyn's mental set up is relaxed, there is no other way to describe him. Dale is innately chilled out, more introvert than extrovert, happiest in the natural world, his great loves being fishing and getting into the bush.
I used to call him a land-locked surfer because he was so chilled out. Ironically, I wasn't far off the mark. Where Dale grew up there was no surf. The next best thing was skateboarding, at which he excelled, only giving it up because of the potential for injury.
Being chilled is a bonus for elite performers, because it means they rarely get overawed about competition, and they can bring their intensity up for a match, which is much easier than trying to get it under control if you are over-anxious.
As I began to work with Dale, I found he was still very raw. He could bowl very quickly, but he didn't have a specific plan to take wickets and to manage the process of bowling a spell.
So we laid out a very simple game plan, with an outcome-goal of wickets per innings. After that, to switch to the process-goals of what needed to be done consistently to achieve that.
Dale took the plan and, now he has tweaked it, he has upped the number of wickets he wants to take per test innings and has kept the processes the same.
And we have all seen the results!
Steyn has an incredible passion and intensity that drive his performance. We see that in the explosion of emotion when he takes a wicket.
This passion is common to all elite performers, it is the fuel that drives performance, it is a personal, unique, part of their journey. Who knows what it is that ignites this fuel, but it is there.
As long as it continues to burn we will have many more days of watching the Phalaborwa Express glide into the crease to terrorise the world's best batters.
---
Dale Steyn: Fast Bowling Technique
Technically, Dale Steyn is superb, his run-up is poetry, smooth, controlled, a gradual acceleration into the crease with an effortless running style.
The action is so pure it has needed very little tweaking over the years.
Orthodox and side ways on in his delivery stride, the basics are good and allow Dale to get into consistent and stable release positions, giving him a solid base to drive through his action.
What is standout about Steyn is his 'feel'. He has a sixth-sense control of the ball, subtly being able to adjust wrist and seam to garner orthodox away swing and reverse.
His wrist position is excellent, firmly behind the ball and angled slightly to first slip for the away swinger.
Of the other bowlers I have worked with, only Waqar Younis and Wasim Akram have had the same degree of feel and control of the ball as Dale.
A genius-level feel for the ball and the ability to control it whilst still bowling at high speed augur well for Dale, still in the early stages of his international career. There should be many more years of success ahead.
---
Back from Dale Steyn to Cricket Players

Cricket Bowling Tips: Dale Steyn Bowling Strategy

Back To Cricketlab From Dale Steyn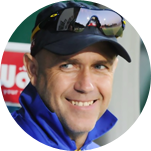 About Richard Pybus
I'm Richard Pybus, I've coached Pakistan, Bangladesh, Middlesex, Titans and the Cape Cobras in South Africa and the goal of this site is to help you to play winning cricket.