Cricket Bats:
Choosing your cricket bat is a special moment and one not to be rushed.
Not only are bats expensive, you need to make the right choice, to get the size, weight and feel right of your bat right.
Which cricket bat is your cricket hero using? If you are going to choose the same brand you need to make an informed decision.
---
Back To Cricket Bats From How To Choose Your Cricket Bat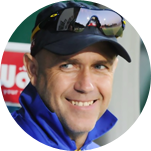 About Richard Pybus
I'm Richard Pybus, I've coached Pakistan, Bangladesh, Middlesex, Titans and the Cape Cobras in South Africa and the goal of this site is to help you to play winning cricket.