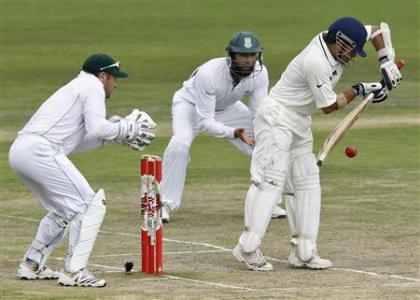 ---
Welcome to Wicket Keeping Tips
I have been fortunate to work with some wonderful wicket keepers over the years and all have managed to share some wonderful wicket keeping tips which I can share with you now.
With Pakistan I had two great glovemen in Rashid Latif and Moin Khan, keepers with great hands and good athletes.
In South Africa I started with Mark Boucher when he was 14 and we worked together till he was the South African Keeper, he has been a world class keeper and I am proud to say has broken many world records.
Recently when coaching the Titans I had Heino Kuhn, who developed his game keeping to Dale Steyn, Morne Morkel, Paul Harris, Roelof van der Merwe and Imran Tahir.
At the Cape Cobras with Dane Vilas who now holds the world record for the only keeper to have scored over 150 and has ten dismissals in a first class match.
These wicket keeping tips can be used in conjunction with the tips on batting, specifically on watching the ball and managing your energy in the field.
Positive intent and how you manage your attention, your ability to focus are keys to good keeping.
---
Top Ten Wicket Keeping Tips With Former Pakistan Captain And Wicket Keeper Rashid Latif
Top Ten Wicket Keeping Tips with SA's Heino Kuhn


---
Cricketer's Top Ten Wicket Keeping Tips
---
1. Have a vision for your wicket keeping performance, what your roles are in each format of the game. Set goals for training and for match time. Break down each aspect of your keeping, standing up to the stumps, standing back, catching to both sides, single and both hands.
2. As wicket keeper you're the center point for the team performance in the field. Make sure your set a good tempo for the side.
Get through the overs, keep ahead of the clock with the over rate, particularly with 20 20 Cricket where time is always an issue.
Make your fielders look good, taking wayward throws and balls on the half volley. Affirm them and boost up your players confidence, encouraging them, especially when your side is under pressure.
3. Set your focus for each ball, watch the ball from the bowlers hand. Be present with each ball, you will make mistakes, let them go, re-set your focus and set a goal for the next ball.
breathe and relax between balls to help let go of tension and reset your focus.
4. Go down for each ball, it makes you come up underneath the ball. Keep your hands open and create a big surface area for the ball to come into.
Extend your hands out to the ball to receive its energy, let your hands receive the ball and give with the energy.
You will catch primarily in one hand, so look after your dominant catching hand. Be aware of where your are catching the ball in your hand. Pay attention to closing your hand around the ball when gloving it, this makes your judgement more precise and assists you in watching the ball closely.
5. Elite wicketkeepers set the alignment for the slips. The slips take their mark from you – set them around 1 1/2 slips so that you have room to dive and move. When you are going for a catch in this channel, go with total commitment.
6. When diving for the ball, lead with your head, drive your head toward the ball, good head position gives your eyes and ultimately your brain good information to get into position to take your catch.
7. When diving for catches you have two options: having caught the ball, either tuck your elbow under your body and roll so your don't land on it … or you straighten your elbow when diving low for the catch.
This takes the jarring motion out of your landing. Get the mattress out at home or at your club and practice this till you can master both techniques.
Wear long sleeve shirts to protect your elbows when diving.
8. Practice your focus and watching the ball. Staying down and watching the ball bounce to give yourself a long, good look at the ball. As in batting, judgement of length is critical and needs to be practiced.
Practice this by doing throw downs and work on the bowling machine if you have access to one, consciously pay attention to watching the ball bounce.
Challenge yourself to not move till you have watched the ball bounce.
9. Keep your hands low and your eyes glued to the ball when taking the bouncing ball, allow your arms to stay long so that your hands come up underneath the ball. This stops you having to go back down for the ball.
10. Practice taking the ball up to the stumps and down the leg side, put a chair or long box in the way. You need an obstacle where the flight of the ball is obscured as it passes the imaginary batsman.
Practice your weight transfer and sweeping your weight back to the stumps for the stumping.
To help with this, play with a ball all the time, a tennis ball or bouncy ball.
Throw it into the ground, bounce it off the wall and the ground. Let yourbrain experience lots of different angles.
Catch with both hands, work on becoming as ambidextrous as possible.
---
I hope you have enjoyed these wicket keeping tips, come back and visit regularly as I add more tips and wicket keeping info.
Pass these on to your friends, help them to improve their game with wicket keeping tips to keep them on track.
Share them and and get them to come visit Cricketlab to improve their cricket skills too.
---
Back To Cricket Tips From Wicket Keeping Tips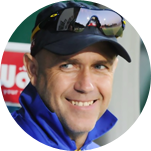 About Richard Pybus
I'm Richard Pybus, I've coached Pakistan, Bangladesh, Middlesex, Titans and the Cape Cobras in South Africa and the goal of this site is to help you to play winning cricket.