Cricket Bats: Learning to look after your cricket bat is going to add value and lengthen the life of your favourite bat.
Players through time have taken great pleasure and pride in looking after their favourite wands.
Younis Khan, the great Pakistani batsman was so adept with his bats that he would replace the handles in his bats when they were broken.
Don't try this on your own, your parents are going to be pretty grumpy when you have ripped out the handle of your best bat in a woodwork experiment.
Another Pakistani great, Inzaman-Ul-Haq had several practice bats but a favourite match bat which only came out in game time, he nurtured this lovely piece of willow over many years to keep it going.
You will get lasting value from your bat if you learn to look after it.
See the video below to help understand how to care for your special cricket bat.
---
---
Back To Cricket Bats From How To Look After Your Cricket Bat
---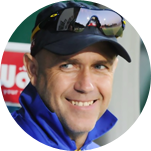 About Richard Pybus
I'm Richard Pybus, I've coached Pakistan, Bangladesh, Middlesex, Titans and the Cape Cobras in South Africa and the goal of this site is to help you to play winning cricket.