by Oliver Cooling
(Penrith, Australia)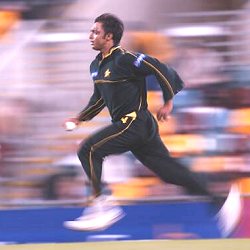 Shoaib Akhtar: In Full Flight
My run up as a fast bowler is quite short! How do I extend it? I always feel cramped when bowling!
Hi Oliver, run ups are unique, from the long run in of a Shoaib Akhtar to the economy of a Richard Hadlee approach.
Although you may not remember the great New Zealand quick bowler Hadlee, his run up was not much more than 15 paces, when he finished his international career he had been the world record wicket taker in test match cricket and was revered as one of the great fast bowlers of all time.
An Akhtar run up was a thing of beauty, a smooth, long sprint with Shoaib hitting the crease at full tilt. Bowling upward of 150 kph consistently and the speed of the sprint generated the momentum that allowed him to bowl at these high speeds.
Between these two reference points, is a run up for all fast bowlers.
So what are you looking for … a run up that is long enough for you to build up enough speed to carry you into the crease and allow you to set your action (high front arm and stable head position ) and drive through it with balance, economy and power.
A simple run up drill for you to work on getting the right length and pace of your run up follows, there are a couple of provisos though.
This drill is best used during the off season as it takes time for the brain and body to remember the timing of the stride pattern.
Get a friend or coach to help you with marking the point of your delivery stride and front foot landing.
This drill will let you know when your body feels comfortable with the length of your run up, it's not about what you 'think' should be the length of your run up, so allow the drill to do its work.
1. You are going to put a marker down on the field and run, with ball in hand and jump and bowl as if an imaginary batsman is in front of you.
You are going to do this with your eyes closed to begin with so that there are no visual distractions and so your body can 'feel' when it is right to bound and bowl.
2. Put a marker down on the field, away from the nets and the middle strips, we don't want any visual or perceptual distractions. The marker is the beginning of your run up.
Make sure your foot hits the marker, right or left, the normal foot you start your run up with.
With ball in hand, eyes closed, run at your normal run up pace until it 'feels' right to bound and bowl at the imaginary batter. Don't let go of the ball, just go through your bowling action.
Now your friend or Coach is to monitor where your front foot lands. Without him or her putting a marker down though yet. We still don't want any distractions or you to be 'thinking' about where you should jump.
Repeat this drill, with eyes closed, until there is a pattern to where you jump and bowl. This can take up 12 -18 deliveries, so be PATIENT.
3. When your front foot is landing consistently in the same place, (this won't be exact, it can be out by a couple of feet), we have a pattern and your partner can mark your front foot landing.
Now measure the run up from your marker to your front foot landing point, do this with a tape measure or by pacing it out accurately.
Mark this out on the field with two cones at either end, from beginning of your run up to front foot landing.
4. Now practice running this through, eyes open this time, do this for three or four overs until you are getting a feel for the pace and length of your run up.
Again, be patient, it will feel strange to start off with.
Your partner must stand to one side to watch your front foot landing point and to adjust the marker as your front foot landing becomes more consistent.
5. Practice this run up three times a week, four – six overs at a time for your brain and body to learn the timing and pace of the run up. You can bowl in the nets or middle to do this, with a batter or not.
It will take about 21-30 days for this to become engrained.
When you are confident that the pace and timing of the run up are right, you then move this drill to the nets and middle practice.
Happy Fast Bowling, Coach.
Comments for Cricket Bowling Tips: Fast Bowling / Length Of Run Up
Dec 21, 2014
gaining tips
my name is sheraz.i have been joining javedmehmood cricket acadmy for six month.my speed increases gradually but i can not controll myself when i bowll to batsman after runing plz tell me tips

---
Dec 09, 2014
target the of stump ,line-lanth aur jump


hi main Arshad hu me jab bhi batsman ko bowl dalta hu to meri line-lanth,jump achhi tarh se nahi hota jis se mera target sahi nahi jata koi tips batao

email adress-arshadkayamkhani@gmail.com
contect no.-9460050786
---
Dec 03, 2014
problem


I have a problem in my runup so sometimes i loos my control and throw some shortballs
---
Nov 09, 2014
target the off stump
Hi Coach
I have a problem which is that I cannot, target on the top of off stump please help me
---
Oct 04, 2014
Not feeling well


Hi sir im kumar from india im 12 years old when i bowl i can bowl very economical in the start but some times i didn't feel well when bowling its because of loss of control near the crease when i dont feel well i can't bowl well so what to do get that control well
---
Sep 26, 2014
Pausing before bowling
Hi coach
I have a problem. Whenever I bowl I have a good run up but whenever I am about to bowl the bowl just before that I slow down. I am not sure what to do. Please help me.email: amdsouza13@gmail.com
Thanks
Arul
---
Jun 11, 2014
cant control


Iam a fast bowler my problem was full toss balls ,somtimes i will lose control on the ball so please say me some tips
---
May 07, 2014
Line leth


Hey i am Dilip joshi . .i am right hand fast bowler i allmost 146 kmp but i wants 150 kmp give me some tipc
---
Apr 26, 2014
bowling run up title


When i bowl and reach near the crease than i take a paused,because of paused i bowl slow.so please give me a tips for that problem.IF i bowl in 2 steps so i bowl 110 km per hour,but i bowl in full run up than i take paused and i bowl very slow,so please give me a tips for that problem
---
Apr 07, 2014
my story


mein shiva sharma hu sir mein fast bowler hu khaana ko muja apne pa full confidence hai PR over . my age 21yr ka hogaya hu maana district level khela hai state level pa select nai krta hai pta nai q . ESS sa muja apna pa confudenece nai a RHA hai muja app btao sir ke 21 ka hu mein kya AGR acha khalu main local matches muja India team main aaga chance Mel skata hai
---
Mar 26, 2014
fast bowling tips – bowling bouncer


hello coach

i am adnan zeb from pakistan kpk i am fast bowler and my run up and start is same like shoib akhter
i am a good yaorker bowler and good fuller bowler but my bownser is not too good in some pitches here in my cityi want to bold a good bownser mix 2 or 3 in over because my all bowling is good but broblem is creating here the bownser ball is not my goodplzz any on give me any tips about the bownser ball are any one send me a link which one help me in a good bownser

plzz cont me
skype adnan.khan6175
email adnanzeb001@hotmail.com
cell 00923149284763

thanks

Hi Adnan, see here …
---
Mar 21, 2014
Fast Bowling


I have a problem…my hand is not rotating 180° plzz give us some tips about this plzz i am requesting
---
Jan 22, 2014
Run up


i have a problem with run up….i always bowled the same line and length..i am alot of speed from small runup of 6 and 7 feet…when i come to increase the runup then my speed i reduce

Hi Mushtaq, it is important to have a reasonable length to your run up ( 15 to 20 walking strides when you measure it out ) to stop you from getting stress injuries as you get older. When you bowl from a short run you have to use a lot of energy in the crease, you'll find it easier on the body to extend the run up and allow the energy from the run up to carry through your delivery into the speed of the ball.Try running a few more paces, if it feels comfortable then use it.regards Coach
---
Oct 31, 2013
thanks
this is gr8 info….
i will practice it ….actually i hv problem in nets of NO balls….but pace is g0od….but in match in order to overcome N0 balls ….pace reduces but run up do fine….but I want my net run in matches also f0r go0d pace….but in order to c0ntrol N0 balls in NETS….by increasing 1 step according to p0pin crease….i deliver ball with N0 N0 BALL….but feels not comfortable jump and pace….but thanks ..i will foll0w ua instructions…thnaku
---
Join in and write your own page! It's easy to do. How? Simply click here to return to Ask Coach?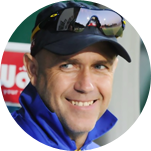 About Richard Pybus
I'm Richard Pybus, I've coached Pakistan, Bangladesh, Middlesex, Titans and the Cape Cobras in South Africa and the goal of this site is to help you to play winning cricket.