by Mafaz Ahsan
(Islamabad.Pakistan)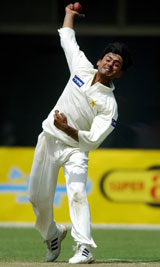 Saqlain Mushtaq – Genius
Hi Coach,
Please can you help me in becoming a good off spinner ? I have several questions for you.
Is height important for me to become a good Off Spinner ?
Secondly, I have variations but I need greater control in terms of length and line. Can you help? My runs per over is too high
Where should I pitch my off break deliveries and doosras?
With Best Regards
Mafaz Ahsan
Hi Mafaz,
No height is not an issue, think of Mushtaq Ahmed, ignore the fact he is a leg spinner.
He is not much above 5 ft 6 but got lovely flight and drift on the ball.
What is important is that you work on bowling the ball above the batters eyeline so that he has to work to judge the flight and dip on the ball.
You need to spin the ball hard to do this, not lob it, up and down , but spin it up.
Practice Drill for this:
Take a piece of string and tie it across the net 8 paces from the batters end. Put a marker down 3.5 paces from the batters stumps.
Now work on spinning it over the string and to land on the marker.
You have to spin it without enough top spin and side spin to get the ball up and down.
Work at this, it will give you good dip and drift. Your height or lack of it won't be an issue.
For control, do the above drill till you can control your stock ball.
I used to keep to Saqlain Mushtaq when he used to do his technical work and he could literally hit a cone the size of a saucer 5 balls out of six.
It is a learnt skill that comes from a lot of practice.
Line and length for the off spinner to the right hand bat:
For your stock ball I like the off spinner to aim to hit the top of off stump, the ball pitching outside off, drifting away and turning it.
I like the bowler to ask the RH bat to aim to hit the ball against the spin and drive the ball square on the off side.
Looking to bowl the batter through the gate or caught at short mid wicket.
For the LH bat, bowl at off stump, asking the batter to play, bringing the LBW into the game and looking for the catch at slip, gully and catching cover.
To bowl with greater economy in one day cricket, you can look to bowl straighter and bowl into the legside with sweepers protecting the leg side boundary.
You can do this to get your confidence back, it is a conservative way of bowling, but will give you control when you need it.
When you have your confidence back, look to bowl more aggressively, looking to take wickets, not just conserve runs.
For the doosra to the RH bat, go slightly wider in the crease, aim at off stump – middle and off stump. Bowling a line which asks the batter to play, you are looking to get the RH bat caught at slip, gully and stumped.
For the LH bat, reverse the process for the above, the ball turning in. The line is outside off and you're aiming to hit the top of off, bowling the batter through the gate. Caught at short mid wicket etc.
Good luck and best wishes. Coach
Comments for Cricket Bowling Tips:
Off Spin Bowling – Control and Doosra
Nov 23, 2014
Spinners Variations


Hello man how to ball chotha anybody can tell me. .

Hi Young Spinners, I now you all want to bowl the variations that Saeed Ajmal and the other 'mystery' spinners have made popular.

May I suggest that you concentrate on developing excellent control of your stock ball rather than wanting to have alot of variety at this stage of your bowling career.

The doosra is virtually impossible to bowl legally and makes you too chest on, rather focus on bowling orthodox spin, stay side on as possible and decieve the batter with flight, drift and spin.

You will be a more effective bowler for it now and when you get older.

best wishes Coach
---
Apr 11, 2014
spin


hi can you tell me how to bowl thisra

---
Feb 23, 2012
Doosra


What is the grip of doosra
---
Jan 20, 2012
Doosra


Hey coach,

I was wondering how to bowl the doosra without chucking the ball, I've practiced in the nets and keep throwing it? Any tips?

Hi, Saqlain used to bowl it with a scrambled seam, this makes it difficult for the batter to read it. Hold the ball with your finger against the seam rather than on it. Spin the ball hard. This scrambles the seam in flight, it also doesn't drift like a normal delivery, it holds the air longer.

Try opening your front foot and shoulder slightly to release the ball, this will help to get your wrist around the ball. As you become more proficient you will need to work on closing your action or you will end up as a chucker.

It took Saqlain 2.5 years to getting close to mastering it, so be patient!

Coach Pybus
---
Join in and write your own page! It's easy to do. How? Simply click here to return to Ask Coach?