by Karthik
(India)
Hello Sir, I am Karthik, a 13 year old fast bowler and I have a similar bowling action as Waqar Younis.

I have a little problem with my control and accuracy and I cannot get into a proper rhythm with my action.

So can you please give me a few tips to improve my accuracy and my rhythm.
Hi Karthik,
control is easy to sort out, go to this page Cricket Bowling Tips/Fast Bowling:Balance And Control In Fast Bowling and read the third article where I explain how to work on developing greater balance, control and accuracy.
Rhythm is a word which can be difficult to define in bowling, but you definitely know when you don't have it !
So what is rhythm? I think that rhythm is a natural flow of skills coming together through each of the stages of bowling. Beginning in the run up, which then builds into the bound ( or jump), transfers into the bowling action and follow through. Each part needs to flow into the next, if one piece isn't working it cascades through and impacts on the next.
Dale Steyn is the most similar bowler today to Waqar Younis. Have a look at this video to see how he flows through the different stages of a delivery.
Watch here and enjoy, get a picture and feeling of the run up and action in your head and then you'll find it easier to copy him.
Run Up – Transition Into Bound – Action And Follow Through
Practise your run up so that you get the timing right, you want a set stride pattern that builds from shorter strides, like Dale's, into an easy acceleration into the crease.
Keep your head still when you run in, lean forward slightly like Dale and fix your focus on the bottom of off stump so that the brain has a target on the wicket which never moves, you can move your length forwards and back from here. This will set your line and length.
I believe the best way to develop a great bowling action is to copy bowlers ( like Dale Steyn) who are similar to you, bowlers who excite you and you want to be like.
Then practice bowling like them, use a reflection in a mirror or a window ( don't bowl at the glass LOL ! ) to groove your action.
Keep working on your game, Happy Fast Bowling, Best Wishes Coach
Join in and write your own page! It's easy to do. How? Simply click here to return to Ask Coach ? .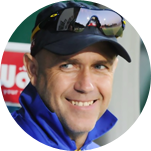 About Richard Pybus
I'm Richard Pybus, I've coached Pakistan, Bangladesh, Middlesex, Titans and the Cape Cobras in South Africa and the goal of this site is to help you to play winning cricket.