by Rao
(India )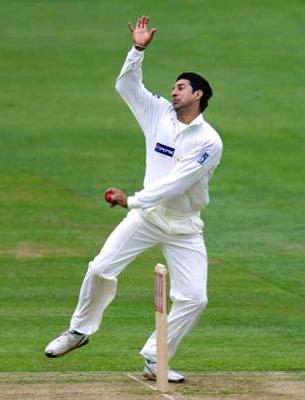 Wasim Akram: World Class Swing – Speed – Skill
HI COACH,
I AM RIGHT ARM MEDIUM PACER AND MY BOWLING ACTION IS THE AS SAME AS WASIM AKRAM'S ACTION IF VIEWED IN MIRROR IMAGE. I LOVE TO COPY HIM BUT MY COACH DOESN'T WANT ME TO BOWL WITH THAT ACTION AND WANTS TO CHANGE MY ACTION, I AM UNCOMFORTABLE WITH IT. SO WHAT SHOULD I DO?
PLEASE HELP ME AS I WANT MY CONFIDENCE AND ACTION TOO.
THANK YOU COACH
Hi Rao,
each player is responsible for their own game, not the coach. The coach's job is to work with the player to help them enhance their talents, not to take over their thinking and technique. Be true to yourself, if you like your action, it works for you and keeps you injury free then run in and bowl quick!
Modelling the best players in the world is one of the best ways of learning, we learn through watching and copying, copying the great left arm genius of Wasim can only be good for you.
Chat to the Coach and explain to him what you have said here, if he fails to understand and still wants to change your action then its time to find a new club.
Happy Fast Bowling! Regards Coach
Comments for Cricket Fast Bowling Tips: Coach wants me to change my bowling action.
Jan 01, 2015
junaid khan s action

NEW




Hello coach i want to change my bowling action i am not comfortable with thusaction i wanna to copy junaud khan's action
---
---
Jun 06, 2014
fast bowling
Hi,coach my name gaurav I am 14 years old I am a medium fast bowler in my bowling there is no pace and no good speed what should I do for it?

---
Jun 06, 2014
fast bowling
Hi,coach my name gaurav I am 14 years old I am a medium fast bowler in my bowling there is no pace and no good speed what should I do?

---
Jun 05, 2014
my coach want to change my action


i m right arm fast bowler and my action is just like malinga but my coach want to change my action for some reason he said if u ball like other bowlers you have better speed accuracy and line lenght but i can't able to change my action plz help
---
May 12, 2014
I want to Know about my Bowling action
Hello Sir,
I used to bowl with right hand, and when coming to action the hand come upon from my head by bending from the joint of the hand.
Every time in some tournaments there should be chuck for my bowling. After the chuck they are allowing me to bowl as usual. By that time i am losing the confidence.
please give me a suggestion to proceed further. Thank you coach.
---
Oct 06, 2013
Fast bowling – technique change


Hi,i am left arm fast bowler. my coach is complaining that for the last 2 days a little jerk is coming in my hand while bowling. before it was not coming. now he is asking me to change my action. . please tell me what should i do?

Hi Mukund, the important thing here is to listen to what your coach is saying and ask him to describe the change and the correction.There is nothing wrong with your coach pointing out a change of technique that you may be making without realising it. It is essential that he points out the error and the correction.if you don't understand what he is asking, practice in the nets with him and bowl 12 balls at off stump and see the results. Sometimes we can get into bad habits, we see the result and correct it. Ultimately, if you don't understand your coaches' advice or don't agree, you continue with your practice and your game as normal, you have to be responsible for it.
Best wishes Coach
---
May 19, 2013
I want to change my bowling action
HI sir:
I want to change my bowling action, I'm a fast bowler in my team but for a few months I didnt play cricket bcoz of my exams .. after my exam I started playing cricket, but I cant bowl like before. My action has changed and pace has also dropped, what I should do ? plz help me.Hi Aadarsh,
you haven't lost your bowling, it doesn't just disappear. What has happened is that your long break from the game has meant that the part of your brain that deals with the muscle memory for bowling has been busy with other things!So, the goal is to get busy bowling again, as I repeat often on the site, you need to practice consistently to keep growing your game, repetition is the mother of learning.Don't think about changing your action, rather go back to basics, start slowly as if it is pre-season and work your way back into your bowling. Begin off a short run if necessary and do some target bowling, give the brain target to aim at, begin a couple of times a week and keep a track of your results. As you improve your confidence will grow.best wishes Coach
---
Mar 28, 2013
I WANT TO BALL FAST


sir i want to ball quickly but i think that i couldn't fast because of my height .my coach has told that whose height long he can only bowl fast.sir is it true

Sudhir, you run up and bowl as fast as you want, don't worry about height. best wishes Coach
---
Join in and write your own page! It's easy to do. How? Simply click here to return to Ask Coach ? .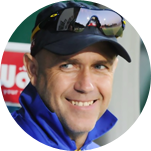 About Richard Pybus
I'm Richard Pybus, I've coached Pakistan, Bangladesh, Middlesex, Titans and the Cape Cobras in South Africa and the goal of this site is to help you to play winning cricket.