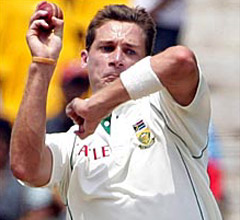 Dale Steyn: Subtle Variation – Deadly Effect
Hi Coach, my name is Robert from London. I've been selected for my school team.

I know fast bowlers uses variations to get wickets. Can you give me some variations I can practice to use taking wickets in matches.
Hi Robert,
well done on getting selected for your school team. Yes you're right, fast bowlers do use variations to take wickets, particularly on wickets and in conditions when there is little help, either in the air or off the playing surface.
Stock Ball :
The most important thing for you to understand is that variation only works consistently when you have control of your stock ball.
Why? Well, the first thing you need to do as a bowler is build up pressure, you can only do this if you can bowl the ball in the right area consistently.
Hitting the optimal line and length on a specific wicket to create this pressure. Not allowing the batter to score forces the batter to play a shot he doesn't want to because he can't score off your stock ball.
My old headmaster Mr Jones said to me when I was boy, that a 'good' length is one where the batsman has to think whether to play forward or back.
In that moment, when the batter has to think what shot to play, lies the opportunity to take wickets. Batters don't like to think, they like to see the ball and know its either full or short so they can move without thinking into playing a shot.
So, you need to practice and work on controlling your line and length to be able to hit your optimal length repeatedly.
To do this, put a target (about the size of a A4 piece of paper) on a good length on middle and off stump.
Good Length: Ask your coach what a good length is for your age group. To work it out for yourself, stand in the crease and reach forward as far as you can, can you play the ball comfortably off the front foot or do you need to step back to play off the back foot. Pace this length out from the front crease and remember this length (3-4 paces)so this becomes your target length for practice.
Bowling Drill: Bowl as close to the stumps as possible ( like Dale Steyn )so that your stock ball has an opportunity to go straight, bringing in 3 chances of dismissal … bowled, LBW and caught behind.
Now practice bowling 4-6 overs at this length a couple of times per week so that you learn to be able to control this length and build up pressure.
Do not sacrifice pace for control, still run up and bowl quick, pay attention and focus on your length and record how many hits you achieve per session, per week.
Aim to improve your control each week, even if it is only one extra hit per week !
When you have mastered control then your variation has power.
Variation:
In normal one day cricket (not in the power plays), bowl to hit your length for the first four balls of each over.
Build up pressure early in the over, the batter wants to score, so you don't let him score for the first part of the over.
The wicket taking ball ( the variation ) is typically the 5th ball of the over, if you don't take a wicket with the 5th ball you bowl a 'dot' ball ( hit your optimal length ) again on the sixth ball so that the batter is kept at that end to hold the pressure on the batting team and hand it over to the bowler from the other end.
Variation for the 5th ball …
Width in the crease:
You can either go slightly wider in the crease and aim to bowl a full length for the batter to drive, caught at slip, gully or cover if he chases the ball and plays away from his body.
Even more potent if you can swing the ball away.
You can bowl an off cutter, like a fast off spinner, outside off stump to spin back and hit off or middle stump … or he mistimes and hits a catch to a fielder in front of the wicket.
If you know how to swing the ball, either in or away … bowl 4 balls that swing then put your fingers across the seam to stop it swinging and bowl straight for the LBW.
Palm ball : Put the ball deeper in your hand into your palm, but hold it with a normal grip, this will take pace off when you bowl the ball and often leads to the batsman mistiming their shot, inducing a catch, either in front of the wicket or behind.
Knuckle ball: Pull your fingers up on the seam so that you have less leverage, this is like the palm ball, it takes pace off the ball and induces a catch.
Those are some variations to play around with.
T20 Cricket: With the new ball in the power play let the shine and seam give the ball its variation, bowl fuller and aim to take wickets either bowled, LBW or caught. Use your bouncer occasionally to push the batter back off the front foot.
Outside of the powerplay make sure you change your pace up and down with variations and change lengths so that batters can't just focus on one length to hit you off.
Practice – Practice – Practice to master these skills before using them in game time.
Rather master one skill at a time and use it well,  than trying to bowling Liquorice All Sorts.
Good Skills … regards Coach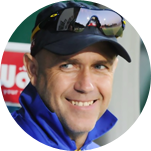 About Richard Pybus
I'm Richard Pybus, I've coached Pakistan, Bangladesh, Middlesex, Titans and the Cape Cobras in South Africa and the goal of this site is to help you to play winning cricket.