Cricket humour, funny stories, jokes and humourous sledging are essential ingredients to survive your own slumps in form, whether you can't buy a run with your batting or take a wicket with your bowling, here are some funny comedy sketches to perk up your humour.
The Fast Show serves up some fun cricket comedy from England.
Laugh the long winter nights away with some cricket fun from the inimitable Borat, getting some cricket coaching the english way.
Play out the last overs with some dark cricket comedy from Australia. Not for the faint hearted, don't phone animal welfare !
---
---
---
---
Back From Cricket Humour: Videos To Cricket Humour 
---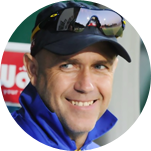 About Richard Pybus
I'm Richard Pybus, I've coached Pakistan, Bangladesh, Middlesex, Titans and the Cape Cobras in South Africa and the goal of this site is to help you to play winning cricket.