Get the latest cricket news here, all the latest stories from both International and Domestic Cricket.
Live feeds from the biggest news agencies on the planet share the latest cricket stories, cricket info, cricket gossip and controvery from domestic cricket, local news and the world cricket scene.
Catch up with the local domestic cricket competitions, see what is happening in County Cricket, T20, ICC tournaments and check in on the IPL.
Catch up on the stars of the game, from Michael Clarke and Sachin Tendulkar to Chris Gayle and Dale Steyn.
Who are the latest signings in the IPL? What are the latest rankings and who will qualify for the play-offs ?
Who is qualifying for the Champions League this coming season?
Who were the domestic Champions who will go through to contest one of the biggest purses in world cricket ?
What are the latest ICC rankings, which teams are fighting it out at the top of the tables? Which cricketers are the Number 1 ranked players in the world at the moment?
Back From Cricket News To Cricketlab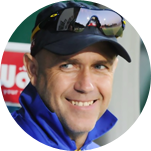 About Richard Pybus
I'm Richard Pybus, I've coached Pakistan, Bangladesh, Middlesex, Titans and the Cape Cobras in South Africa and the goal of this site is to help you to play winning cricket.