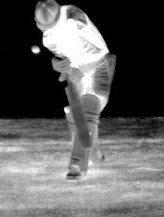 Cricket Technology is moving at a staggering pace and as we battle to keep up with the advances in everyday technology with the latest phones, computers and TV's, what sense can we make of cricket technology and how can it help the player and coach?
In this section of Cricketlab we will look at some of the products on the market and how they may be of use to you.
The reviews will not be advertorial, you must make your own mind up and decide the what, how, where, when of using them. For those that interest you follow the link ….
My thoughts on what the goal of cricket technology should be for the player and the coach … are that technology in all its forms should inform and support the process of playing better cricket, both for the player and coach.
It should be simple both in theory and application. No degrees in astro-physics needed to apply and understand.
Technology should be a servant of the game.
The use of technology by coaches should be secondary to the player – coach relationship. Coaches, beware of becoming the techno-wiz and you have no soft skills like patience and empathy.
My personal use of technology has been in videoing players and games for technical and strategic reviews.
In recent years I have used game analysis extensively, both to help my own players and in understanding how opponents, teams and individual players, construct their games.
Enjoy.
---

PitchVision
Check out PitchVision, it is produced by miSport, they offer a new range of mobile, interactive Cricket training products.
As they say in their brochure…
'Television broadcasting has made us aware of what is possible in terms of the analysis of player performance and profiles of specialist training academies has given 'sports technology' a high profile.
Yet despite the popularity and visibility of these systems virtually none of this technology is available to your local team, school or sports centre, let alone the average player.When it comes to sport, most of us never really get to see what we can do.'
---
This is not a product I have used personally, what I like about it though, is that it has a range of packages to suit most pockets.
It is accessible to clubs, school and universities which I think is critical if technology is going to break through into mainstream coaching.
---
Umpire Decision Review System
Here's an interesting take from Lawrence Booth on the Umpire Decision Review System (UDRS) and the illogical position of the ICC and Sky on its rollout.
Posted in wisdencricketer.com
Go To Cricket Decision Review System
---