---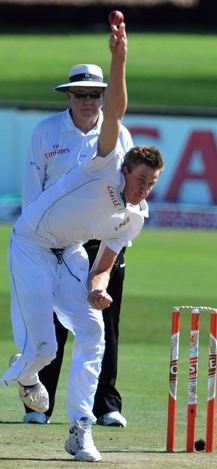 (Photo by Duif du Toit/Gallo Images/Getty Images)
---
Cricket Bowling Tips With Morne Morkel:
Morne Morkel has grown into one of world cricket's premier fast bowlers.
As coaches we have players that we work with who we have a natural affinity with and Morne is one of those for me.
We began working together in 2005 and the thing that most impressed me about him was his desire and hunger to succeed.
He knew what he wanted and he has a single minded focus on achieving it.
Blessed with a fantastic physique, good athleticism and plenty of fast twitch muscle to bowl quick, he married that to an excellent work ethic.
Morne's bowling action wasn't technically sound, he spent a large part of the 2006-7 off season working on straightening it up and working hard in the gym to get fit for the workload that first class and test cricket was going to demand.
He progressed rapidly and although he was accelerated into the South African side, he wasn't the finished article.
He has kept working on improving his mental game, game plans,cricket fitness and bowling mechanics.
Motivated and driven by the competitive relationship with South African team mate Dale Steyn, the two of them have combined to become one of the great fast bowling partnerships in international cricket.
Richard Pybus 2011
---
Cricket Bowling Tips
Cricket Tip No.1
Fast Bowling is hard work, spend time on your cricket fitness, get fit and strong for the work ahead (Do your gym and running work).
Cricket Tip No.2
You need to understand and know your bowling action. When your action is repeatable you will be able to control your line and length.
Cricket Tip No.3
Fast bowling needs mental toughness, you need to mentally prepare yourself for the hard work and challenge ahead.
Cricket Tip No.4
Learn to enjoy bowling and spending time in the field. It helps by setting small goals that you can focus on and achieve.
Cricket Tip No.5
Keep it as simple as possible, don't try too hard.Manage your expectations, don't put unnecessary pressure on yourself, it allows you to keep your mind quiet and allows your skills to flow naturally.
Cricket Tip No.6
Understand and learn from your bad days, its important to reflect so that you don't repeat the same mistakes.
Cricket Tip No.7
Always back yourself, what we say to ourselves is important, keep your self talk positive and focused.
Cricket Tip No.8
Be prepared to put the work in at the nets to get your skill 100%
Be specific and always train at a 100%.
Cricket Tip No.9
Look after your body regarding your diet, recovery and over bowling.
Cricket Tip No.10
Have fun every time you step on the park!
---
Back From Morne Morkel's Cricket Bowling Tips To Cricket Tips
---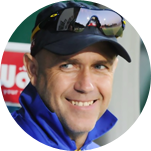 About Richard Pybus
I'm Richard Pybus, I've coached Pakistan, Bangladesh, Middlesex, Titans and the Cape Cobras in South Africa and the goal of this site is to help you to play winning cricket.