Work Capacity by Greg King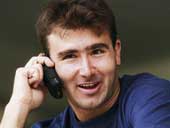 Many cricket fitness plans prescribe a variety of training components such as aerobic training, speed training, anaerobic endurance training and so on.
These terms can sometimes seem confusing so I prefer to simplify things by grouping all of these terms as "Work Capacity" training.
Work Capacity for cricket can be thought of as the ability to perform work and the ability of the body to absorb the stress that is placed on it during cricket training, practices and matches.
The nature of activity (work) in cricket is intermittent. This is true for batting, bowling, fielding and keeping.
This means that there are short bursts of high intensity activity followed by periods of low intensity. These high and low intensity cycles are repeated throughout a match.
It is for this reason that I encourage cricketers to develop their work capacity by doing activities that are intermittent in nature.
There is no harm in doing continuous training (eg. Continuous running) to develop fitness, however I feel the cricketer is better served doing this work in an intermittent pattern.
---
Three work capacity routines have been provided.
If these routines are performed on a regular basis prior to the season a cricketer will significantly improve their work capacity and ability to tolerate the physical demands of cricket.
The routines are all running based sessions. There are modes other than running for developing work capacity, namely swimming, cross-training, cycling, rowing and so on.
However, since cricket is played on a field and players are required to run during play it is advisable to use running.
These routines should be preceded by the CORE WARM-UP and should be performed on alternate days.
It is suggested that these routines are completed on the days between strength training (Tue, Thurs, Sat).
---
Cricket Fitness Plan: Work Capacity Routine 1
Cricket Fitness Plan: Work Capacity Routine 2
Cricket Fitness Plan:Work Capacity Routine 3
---
Back To Cricket Fitness From Cricket Fitness Plan: Work Capacity


---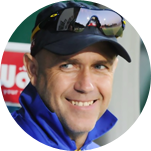 About Richard Pybus
I'm Richard Pybus, I've coached Pakistan, Bangladesh, Middlesex, Titans and the Cape Cobras in South Africa and the goal of this site is to help you to play winning cricket.